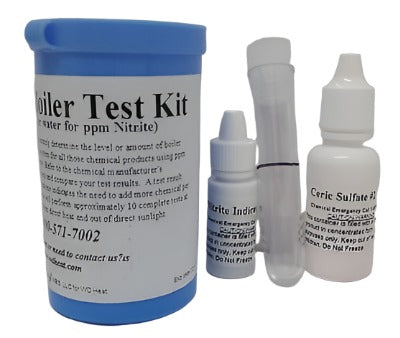 Water Test Kit
Nitrite Test Kit 
The best in accuracy, this kit includes everything to perform +/- 10 tests with complete instructions.
Regularly checking your system assures that your system is properly treated. This method directly tests chemical level.
This is the testing method that we recommend for maintaining your system with the proper level of Treatment Solution 101, 500-1000ppm of Nitrite.  
500-750ppm is adequate for most fill waters while a residual of 750-1500 gives maximum protection. No Freeze Treatment Solution 201 is also tested with this kit for the same recommended levels of Nitrite.  
The level of Nitrite does not, however, measure the antifreeze component of No Freeze Treatment Solution 201 necessarily. 
This testing method is free of interference that plague other methods and is glycol (polypropylene or ethylene) compatible.  Test open systems as often as you need to add make-up water to the system or at least 4 times a year minimum for best results.  Test closed systems 2 times per year minimum. 
About Us.
We are the largest manufacturer of insulated pipe for outdoor wood furnaces in North America. We also provide parts such as duct coils, brazed plate heat exchangers, pex tubing, fittings, water treatment and test kits. Chances are if you need a part for installing your outdoor furnace we have it, or have a dealer in your area that could install it for you.
Since we provide parts for 1,000's of customers and dealers across the US we have taken great effort to only provide quality parts at reasonable prices. Many times parts are produced according to our specifications, and made to last. All of our products come with long warranties and we are willing to compare our parts to anything in the industry.
We firmly believe in customer service. All orders ship within 8 business hours of being place. When at all possible we include shipping in our prices. We stock over $2 million in inventory to attempt to have all products available at all times. When you order from us it is not drop shipped from some warehouse, but comes directly out of our inventory.
We also keep tech support people on staff to answer any of your questions about sizing or installation of all of our products.