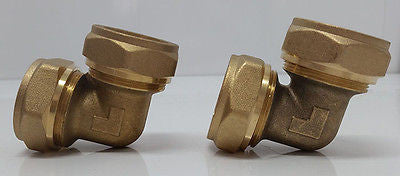 1" Elbow Pex-al-Pex Compression Fitting--Bag of 2
 Pex-AL-Pex 1" ELBOW Compression Fitting
Bag of 2
We have over 300 pieces of this item in stock, and will always ship your order within 24 business hours after the order is placed.
NOT for Pex B Tubing, Use with 1" Pex-AL-Pex tubing only
Brass Construction
Simple and Reliable:
Radiant heat Pexalpex fitting system is as simple as it looks. All you need is a wrench to tighten the nut. Double O rings and a brass Compression ring insure a leak proof connection. Made out of solid brass these fittings are for long, trouble free service.
Product Overview:
 Compression fittings are designed to only be used with Pexalpex tubing 
NOT
 Pex tubing, for radiant heat and snow melting application. The fittings are compatible with either water, or water/glycol solutions, fittings are available in a variety Compression x Sweat, or Compression x NPT connections.
Warnings:
 When using sweat fittings, ensure that all O-rings and insulating inserts are removed prior to soldering. If connections must be made in Temperatures lower than 30 degrees, caution must be taken to for a proper seal.