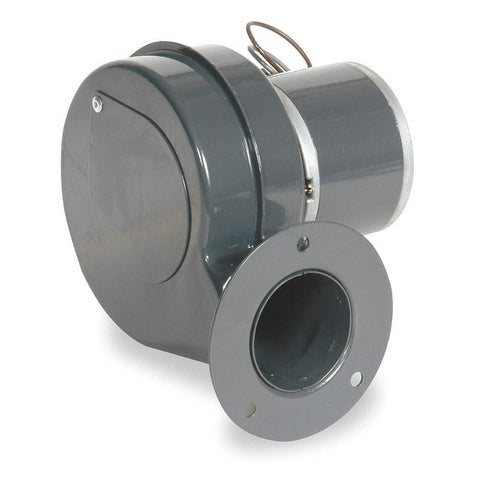 1TDN7 Round Permanent Split Capacitor OEM Blower (replaces 4C440)
Blower- 1TDN7 50cfm
Technical Specs:
ItemOEM Blower
Blower Outlet ShapeRound
With FlangeYes
Blower Wheel Diameter3"
Blower Wheel Width1-7/8"
Blower ItemOEM Specialty Blower
Blower Voltage115VAC
Blower Motor TypePermanent Split Capacitor
Blower Thermal ProtectionAuto
Blower Conduit BoxYes
CFM @ 0.000-In. SP50
CFM @ 0.100-In. SP48
CFM @ 0.200-In. SP44
CFM @ 0.300-In. SP39
CFM @ 0.400-In. SP32
CFM @ 0.500-In. SP18
Hz50/60
Phase1
Full Load Amps23
RPM3036
Bearing TypeBall
Motor EnclosureOpen
Motor InsulationClass B
Lead Length13"
Ambient Temp.104 Degrees F
Inlet Temp.104 Degrees F
Inlet Dia.2-3/8"
Outlet Dia.2-1/8"
Overall Height5-13/16"
Overall Width5-1/8"
Overall Depth6-7/16"
Wheel TypeForward Curve
Drive TypeDirect
Mounting PositionAll Position
Housing FinishEnamel
Housing MaterialRolled Steel
Housing ColorGray
Agency CompliancecULus Recognized (E47479) for the Motor Only Not the Blower, CE and RoHS Compliance
Replaces4C440
IncludesDischarge Mounting Flange and Inlet Cover
 About Us.
We are the largest manufacturer of insulated pipe for outdoor wood furnaces in North America. We also provide parts such as duct coils, brazed plate heat exchangers, pex tubing, fittings, water treatment and test kits. Chances are if you need a part for installing your outdoor furnace we have it, or have a dealer in your area that could install it for you.
Since we provide parts for 1,000's of customers and dealers across the US we have taken great effort to only provide quality parts at reasonable prices. Many times parts are produced according to our specifications, and made to last. All of our products come with long warranties and we are willing to compare our parts to anything in the industry.
We firmly believe in customer service. All orders ship within 8 business hours of being place. When at all possible we include shipping in our prices. We stock over $2 million in inventory to attempt to have all products available at all times. When you order from us it is not drop shipped from some warehouse, but comes directly out of our inventory.
We also keep tech support people on staff to answer any of your questions about sizing or installation of all of our products.